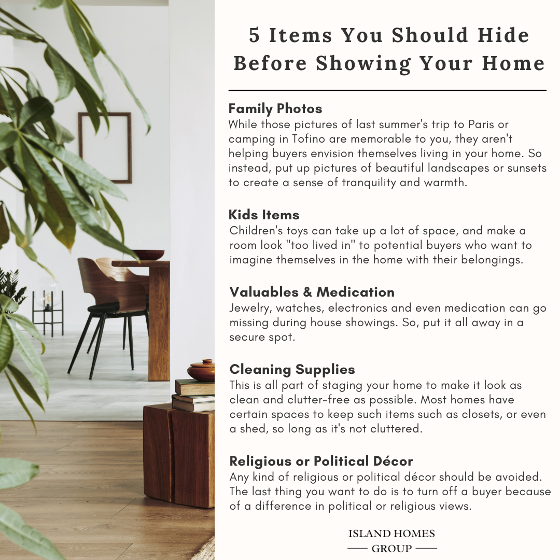 Getting your place ready to sell entails decluttering and cleaning to make it feel as big as possible. We've put together a list of items that you should put away prior to listing your home, or at least hide during showings:
1. Family Photos
While those pictures of last summer's trip to Paris or camping in Tofino are memorable to you, they aren't helping buyers envision themselves living in your home. So instead, put up pictures of beautiful landscapes or sunsets to create a sense of tranquility and warmth.
2. Kid's Items
Children's toys can take up a lot of space, and make a room look "too lived in" to potential buyers who want to imagine themselves in the home with their belongings.
3. Valuables and Medication
Jewelry, watches, electronics and even medication can go missing during house showings. So, put it all away in a secure spot.
4. Cleaning Supplies
This is all part of staging your home to make it look as clean and clutter-free as possible. Most homes have certain spaces to keep such items such as closets, or even a shed, so long as it's not cluttered.
5. Religious or Political Decor
Any kind of religious or political décor should be avoided. The last thing you want to do is to turn off a buyer because of a difference in political or religious views.
If you've been thinking about selling your home and want more tips, we'd be happy to talk!