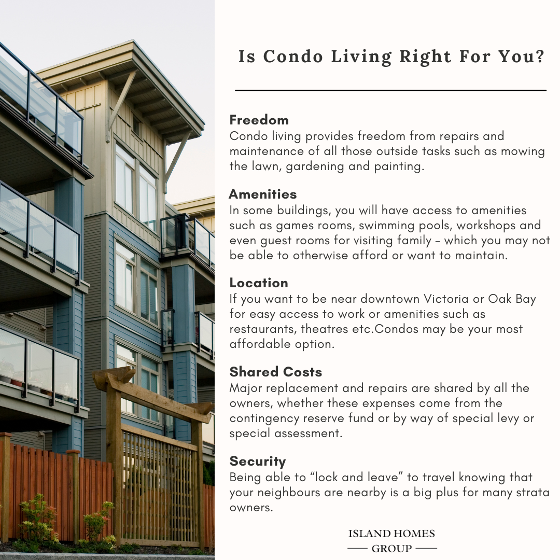 What you Need to Know Before Buying a Condo in Greater Victoria
FREEDOM
For those folks who have lived in single- family homes all their lives, condo living provides freedom from repairs and maintenance of all those outside tasks such as mowing the lawn, gardening and painting.
AMENITIES
In some buildings, you will have access to amenities such as games rooms, swimming pools, workshops and even guest rooms for visiting family – which you may not be able to otherwise afford or want to maintain.
LOCATION
If you want to be near downtown Victoria or Oak Bay for easy access to work or amenities such as restaurants, theatres etc.Condos may be your most affordable option.
SHARED COSTS
Major replacement and repairs are shared by all the owners, whether these expenses come from the contingency reserve fund or by way of special levy or special assessment.
SECURITY
Being able to "lock and leave" to travel knowing that your neighbours are nearby is a big plus for many strata owners.
If you decide a condo, townhome or duplex is right for you, we can help you find a great place that is a perfect fit. Most importantly, we will help with the necessary investigations including strata document review and ensuring your contract to buy the condo or townhome protects your interests.
If you'd like to discuss condo living in more detail, or have any questions of condo, townhome, duplex or other types of strata ownership in British Columbia – please Contact us.